The Chief Minister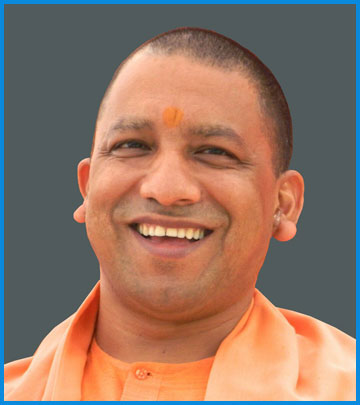 Hon'ble Chief Minister Yogi Adityanath
Uttar Pradesh
Yogi Adityanath (born Ajay Singh Bisht; 5 June 1972) is an Indian Hindu monk and politician who is serving as the 21st and current Chief Minister of Uttar Pradesh, since 19 March 2017.
He was appointed the Chief Minister of Uttar Pradesh on 26 March 2017 after the Bharatiya Janata Party (BJP) won the 2017 State Assembly elections in which he was a prominent campaigner. He again won the 2022 State Assembly elections to be the Chief Minister of Uttar Pradesh for the second time scripting history, being the first ever chief minister to return to power, after completing a full 5-year term in office. He is a former Member of Parliament, Lok Sabha from the Gorakhpur constituency, Uttar Pradesh, for five consecutive terms from 1998 to 2017 when he resigned to become the Chief Minister.
Adityanath is also the mahant (Head Priest) of the Gorakhnath Math, a Hindu monastery in Gorakhpur, a position he has held since September 2014 following the death of Mahant Avaidyanath, his spiritual "father". He is also the founder of Hindu Yuva Vahini, a Hindu nationalist organisation. He has an image of a Hindutva nationalist and a right-wing populist.