Vice-Chancellor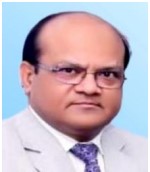 The Vice Chancellor is the principal executive and academic officer of the University. Professor Pradeep Kumar Sharma joined as the Vice Chancellor of the Maharaja Suhel Dev State University, Azamgarh (Uttar Pradesh) in January 2022. Right before joining as Vice Chancellor, Dr Sharma was working as Professor in Department of Genetics and Plant Breeding of Chaudhary Charan Singh University, Meerut for last about twelve years and held various important positions in the University, such as Dean Faculty of Agriculture, Head of Department, Chief Warden and Warden, Registrar-in-charge, Coordinator of self-financed Departments, member of Executive Council, member of Academic Council, member of Examination Committee, member of Purchase and Tender Committees, member of Disciplinary and Enquiry Committees, Member of Statutes and Ordinances Committee, Controller of Evaluation Centres, Convener and member of Board of Studies, Convener and member of Research Degree Committee/Doctoral Research Committee, member of Selection Committees, Observer in state govt medical and B.Ed. entrance examinations, UGC and University tests /examinations, Member of Animal Ethical Committee, etc. Prof. Sharma has more than 26 years' experience of teaching and research, published 86 articles (including 81 research papers, 02 review articles, and 03 book chapters), made poster presentations /published research abstracts in national and international conference proceedings, undertaken five major research projects funded by the DBT, and ICAR-NATP, Govt. of India (two as Principal Investigator and three as Co-Principal Investigator), has supervised > 20 Ph.D. students and several others are about to complete their Ph.D. theses, 84 M.Phil. and 13 M.Sc. Ag. students. The current standard quality indicators indices of his (authored/co-authored) research work/papers are: i10 > 33, h-index > 21, citations so far >1135, and the accrued impact factor of journals is 81.658. Prof. Sharma stayed continuously for one year to undertake advanced research/training in the frontline area of crop/plant biotechnology at Scottish Crop Research Institute (now named as James Hutton Institute), Dundee, Scotland, U.K. under the BOYSCAST fellowship of Govt. of India. He attended and organized several national and international conferences / symposia. He was also involved prominently in making MoUs and collaborations with reputed research Institutes/Universities. A number of academic assignments handed by the other Universities /institutions has also been carried out by him in an objective and faithful manner. He has been conferred with Rashtriya Gaurav Award in 2018 for his academic and administrative contributions and Best Performer certificate by the state government of U.P. and Ch. Charan Singh University Meerut in 2021, Best poster presentation award in a national conference held in 2016. Prof. Sharma is also well conversant with the desired knowledge and applications of computer, internet, and digitization in academics.
Mission
"To build and develop the University with high national and international standards in minimum possible time and to create an environment so that the University is highly placed nationally and internationally in terms of effective governance and high quality education with research and innovations."

Vision
"To develop humans with global competencies to serve the society, nation and the world in diverse fields of human needs by providing high quality education integrated with the approaches of Bharatiya knowledge system."